Authorities say almost the entire staff at the Marapong Health Center in Lephalale in Limpopo has been suspended for abandoning their posts. Workers went on a go-slow demanding to be tested for COVID-19 after their colleague tested positive on Monday.
The workers are also demanding that the building be disinfected. They say only one colleague was tested and the area was not disinfected.
Health Spokesperson Neil Shikwambana, however, says those who were in close contact with the nurse were tested and the results came out negative.
"What is currently happening at Marapong is quite worrying because we believe, as the department, that is health professionals who must understand that the testing process is not a haphazard process but there are guidelines as to who needs to be tested and it's only close contacts of a person who tested positive. And in this instance, close contacts of this person have been tested and we are surprised that suddenly everyone in that facility needs to be tested."
The workers earlier downed tools at the Marapong Health Center in Lephalale in Limpopo.
Hospersa Provincial Chairperson Bongani Ngwenya says the nurse, who is also a member of  the union, is in self-isolation at home after testing positive while giving birth. The baby tested negative.
He says three of her colleagues were tested but they want all 20 nurses to be tested.
"Our members are not working because they requested the employer to test them. What the employer did was to test only three from the staff of over 30 people and say you are the close contact and the rest you are not and you three, go and do self-quarantine, but the rest of 20-something continue to work," says Ngwenya.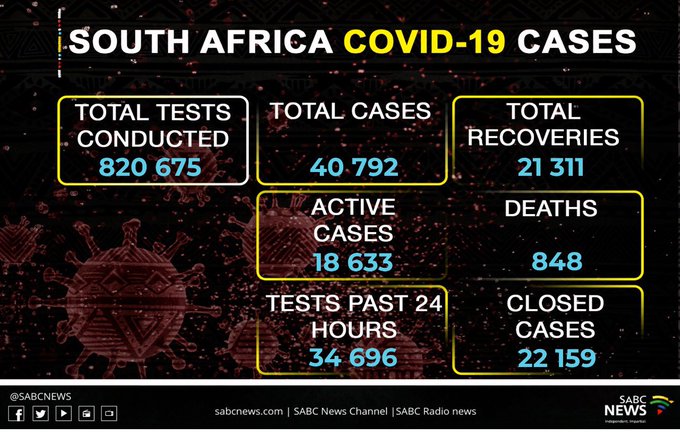 Meanwhile, two healthcare workers have died of COVID-19 in Gauteng this week. This emerged at Friday's Provincial Command Council briefing on COVID-19 in Johannesburg.
Premier David Makhura also revealed that Gauteng recorded the highest number of positive coronavirus cases in the last seven days, with at least 1 500 new infections.
Gauteng has 4 845 of the 40 792 cases reported nationally. The province has recorded 37 fatalities.
Health MEC Bandile Masuku says he is concerned about the rising number of healthcare workers contracting the virus.
"The numbers as of yesterday were around 205, of confirmed healthcare workers in the employ of Gauteng Department of Health and these are the numbers that are actually concerning because they continue to rise. This also relates to a number of things because our health workers do stay in communities where the infection is also raging on. The premier has indicated now … we do have confirmed cases of two health workers who have passed on in the space of this week," says Masuku.
In the video below, health workers at a Soweto clinic protest after a COVID-19 case is confirmed: